Welcome to Olivia Date Love Blog!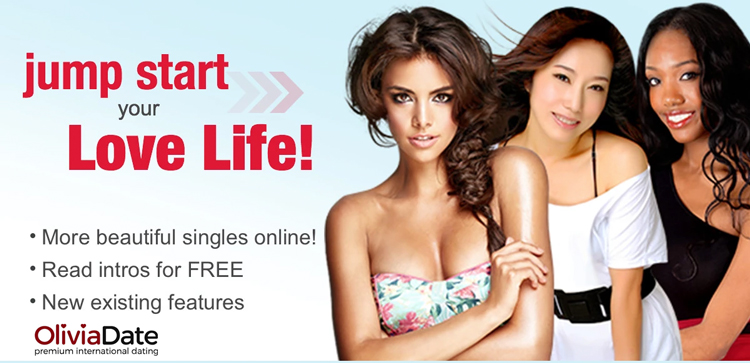 Wondering what it's like to be bombarded by attention from thousands of beautiful single Asian, Latina and African ladies? Try it today absolutely FREE! No credit card required for basic website features. It's safe, secure and FUN!
Other dating websites are complicated and might limit you to local dating only. We believe that one can find his/her real love anywhere in the world! Trying international online dating with Olivia Date is secure, easy and fun!
Here at Olivia Date, we've been creating loving, lasting long-term relationships one couple at a time. Our profile matching system is based on a unique compatibility formula, analyzing factors found in the most successful relationships .
If you are seeking a meaningful relationship with a lady, who puts family values above the rest, international dating is right for you! You must have heard about international online dating from some of your friends and colleagues before, but it al sounds so complicated! But where do you start? Which online dating website to join? How can you be sure that this online dating platform is not a fly-by scam and they have real women on their website?
If these and other questions have been on your mind, you've certainly come to the right place! Here at Olivia Date, we encourage dating safety, which is why we only approve profiles of the ladies who provided their photo ID for verification purposes. We stand by our promise to be a platform for serious relationships and marriage. Our dedicated in-house customer support team has years of experience helping members just like you to find real love, romance and lasting relationships  on Olivia Date. This being said, we have a lot of tips and tricks for success in international dating we will gladly share with you in our blog, so you, too, can find love and happiness and, hopefully, share your happy testimonial.
This is why Olivia Date is your perfect destination for successful international online dating!
Members about Olivia Date:
Thanks to Olivia Date, I met the love off my life, Elena. And with the help of a translator, it made it easier to communicate with Elena. Her and I are very fond of each other and will continue to grow our relationship. I found my true love!

United States

I like your agency because is very serious and have very beautiful girls. I love asian girls, they are very pretty, so tender, passionated, trustworthy and they are girls for one man. Keep up with the good work and thanks for accepting me as a new member. I am so happy to be a member of this agency because this agency is so honest and they have so many beautiful women to choose from. I recommend it to everybody that is looking to find a beautiful girl to match his love in his future life. Keep up with the good work, you are a very important social agency for the people than is looking for their soulmate.

United States

I think this site is a dream for people who think the Asian culture is beautiful just like its women.

United States

The ladies shown on this site are very attractive, and I would like very much to chat and get to know some of them much better. I would love to have the opportunity to met some of these beautiful ladies.

United States

I have been a member on this site for a couple months now. I like the way everything is set up here. It is very convenient to use, customer support team is doing a great job in helping clients. There wasn't a problem that they couldn't help me to solve. And after being on this website for a few months I already met someone special. I would like to thank you for giving opportunity to meet people from different counties.

United States

For everyone out there if you want to chat with beautiful women this is the site. Don't wait, check it out now, you won't be disappointed!

United States

I think you are one of the most beautiful ladies. Asian Ladies are very classy, and should have the men line up at their door.

United States

I love Asian ladies because of their pure beauty.

United States

TO SAY THE TRUE I HAVE BEEN VERY FASCINATED WITH GREAT GIRLS COME IN TO MY PAGE, THAT'S A GREAT! THANK YOU VERY MUCH. I am new in this area but I could tell you one thing Asian Girls are most "beautiful girls"! I started liking Chinese women so much that I Am addicted to them. I love it!

United States

After being a member of this site for a short time I can say that the ladies are very pretty passionate and romantic though I would like to hear from anyone who has actually traveled to China to meet the Ladies or anyone in a relationship with one of these ladies.

United States

Well my name is Terry Mark i am very happy to be one Among the site today i sign up. i am new here, have many friends that wanna Chat with me,God Bless Every Friends here online.

United States